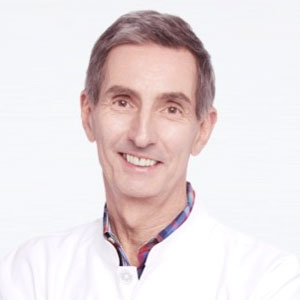 a trailblazer in Germany in the field of refractive and cataract surgery, who introduced the LASIK treatment in Germany and operated the first LASIK surgery in Germany. For his outstanding contribution and leadership in the fields of cataract and refractive surgery, he was voted as Top 50 Opinion leader in 2005, and in last five year,he has been selected five times on the FOCUS expect list.
  Professor Knorz was born in Ludwigshafen, Germany, studied medicine at Saarbruecken, medical school in Hamburg. In 1983, with his outstanding dissertation he passes the Doctoral Dissertation. After graduation, he only took six years to become the vice president of University Eye Hospital, Universitätsklinikum Manheim, and also, one of the main surgeon as well, responsible for the various types of surgery, including cataract, vitreous retinal surgery, corneal surgery.
  LASIK surgery and surgical procedures were developed by a American, Dr Peiman, who studied for 12 years, invented in June 1989.In 1993, Professor Knorz introduced this technology in Germany, He is the first German doctor who could do LASIK surgery.
  The following year, he introduced LASIK surgery in India, and operated the first case in India as well. Professor Knorz has made outstanding contribution to help tens of millions of people to get a clear view. In 2001, Professor Knorz , who gained rich experience in the field of LASIK treatment founded the the first German LASIK center at the University Eye Clinic Mannheim which in 1999 was converted into the FreeVis LASIK Center Mannheim. He served as the center's president and medical director, responsible for LASIK surgery, intraocular contact lenses (phakic intraocular lenses), cataract surgery and refractive lens exchange, FreeVis LASIK center is a LASIK-TÜV Süd certified laser eye surgery center, the authentication represents the highest operation quality and safety standards, it can guide the patients to choose professional LASIK clinic.
  Professor Knorz keeps push on the development in the field of cataract and refractive surgery. Since 1988, he has work on the research sponsored by the Alcon --the world's largest pharmaceutical and medical equipment company and other ophthalmic medical devices manufacturers. He made extraordinary contributions in the field. Professor Knorz is actively involved in the creation of standards of care in the field of refractive surgery, He was the chairman of the "Kommission Refraktive Chirurgie (KRC)" (committee on refractive surgery), a joint committee of the German Ophthalmological Association (Deutsche Ophthalmologische Gesellschaft,DOG) and the Professional Association of German Ophthalmological Association (Berufsverband der Augenärzte Deutschlands, BVA),which is responsible for standards of care in in refractive surgery certification of refractive surgery. He currently serves as the Secretary of the KRC.
  Professor Knorz is senior associate editor of the Journal of Refractive Surgery (JRS) and Past Chairman of the editorial board, Ocular Surgery News, Europe Edition. Professor Knorz' main research areas are in cataract and refractive surgery, intraocular lenses and femtosecond laser technology. With 36 years of rich experience in ophthalmologist, has published over 60 original articles in peer reviewed journals, 50 book chapters, and a comprehensive textbook on phacoemulsification, recently printed in its second edition. Professor Knorz, who has published 500 articles word wild is also a professor, has regular teaching activities at the Baylor College of Medicine, Houston, Texas, USA and University of Heidelberg, Medical Faculty Manheim. He also conducted more than 500 phaco courses and refractive surgery courses in Europe and Asia. He cultivated a great deal of talents in the field of refractive and cataract surgery.
  Nowadays, such a world-wide ophthalmological authority is in EuroEyes-- Global Center of Excellence. It is the outstanding technology EuroEyes has in the field of refractive and cataract surgery and Dr. Jorgensen extraordinary charisma to attract Professor Knorz come to China, He will let patients in China accept a world-class treatment without going abroad, regain perfect vision!
---
Medical training
  University of Saarbruecken, medical school Homburg, 1977-1979
  University of Heidelberg, medical school Mannheim, 1979-1983
---
Residency
  Department of Ophthalmology, St. Vincentius Hospital, Karlsruhe, 1984-1987 (Chairman: Prof. Dr. F. Rentsch)
  University Eye Hospital, Klinikum Mannheim, 1988 (Chairman: Prof. Dr. H. Liesemhoff)
---
Professional certification
  Medical degree (approbation as medical doctor / general practitioner) on 26 October 1983
  Board-certified in ophthalmology on 14 September 1988
  Certified for intraocular surgery of higher degree of difficulty (Fachkunde okuläre Eigriffe höheren Schwierigkeitsgrades) on 9.4.1997
  Certified for laser surgery (Fachkunde Laserchirurgie) on 9.4 .1997
  Certified for laser surgery of higher degree of difficulty (Fachkunde Laserchirurgie höheren Schwierigkeitsgrades) on 9.4 .1997
  Certified for ocular muscle surgery of higher degree of difficulty (Fachkunde Augenmuskelchirurgie höheren Schwierigkeitsgrades) on 9.4 .1997
  Certified for laboratory tests (Fachkunde Laboruntersuchungen) on 9.4 .1997
---
Appointments beyond residency
  Vice chairman, University Eye Hospital, Universitätsklinikum Manheim, Germany, 1989-1998
  Private group practive as an ophthalmologist in Ludwigshafen, Germany, from 1998-2003
  CEO and Medical director, FreeVis LASIK Zentrum, Universitätsklinikum Manheim, since 2002
---
Academic qualifications and appointments
  Doctoral thesis "animal study on the nephrotoxicity of lead", accepted with "magna cum laude", 18.10.1983
  Habilitation in ophthalmology, 27.10.1993
  Venia legend in ophthalmology, 15.2.2000
  Visiting associate clinical professor of Ophthalmology, Baylor College of Medicine, Houston, Texas, USA from 1997-2000
  Professor of Ophthalmology, University of Heidelberg, Medical Faculty Manheim, Manheim, Germany, since February 2000
---
Teaching activities
  Regular teaching activities at the University Medical Center Manheim since 1988
  Regular teaching activities at the Baylor College of Medicine, Houston, Texas, USA from 1997-2000
  Conducting phaco courses in Europe and Asia since 1990
  Conducting courses on refractive surgery (excimer laser; intraocular) in Europe and Asia since 1993
---
Research activities
  Regular participation in controlled clinical trials since 1988
  Participation in Phase I, II and III FDA multicenter trials by several sponsors (e.g. Alcon Inc.)
---
Examples of recent studies
  1.Alcon Inc., Ft. Worth, TX: Prospective, non-randomized trial on the AcrySof Phakic angle-supported intraocular lens for the correction of moderate to high Myopia. Participation in Phase I, II and III; Study start:1998, Study end: 2012
  2.Acufocus Inc.: Prospective, multicentric study to evaluate the efficacy and safety of the AcuFocusTM ACI 700 in presbyopic patients (PROTOKOLL ACU-P-003) Study start :2005, Study end :2010
---
Scientific societies
  Member of the American Academy of Ophthalmology (AAO)
  Member of the American Society of Cataract and Refractive Surgery (ASCRS)
  Member of the German Ophthalmological Society (DOG)
  Member of the Asia-Pacific Association of Cataract and Refractive Surgeons (APACRS)
  Member of the International Society of Refractive Surgery (ISRS)
  Member and President of the International Intra-Ocular Implant Club (IIIC)
  Honorary member of the South African Society of Cataract and Refractive Surgery (SASCRS)
---
Awards
  Honor Award of the American Academy of Ophthalmology (AAO), 2000
  Kritzinger Memorial Award of the South African Society of Cataract and Refractive Surgery (SASCRS), 2001
  Kritzinger Award of the International Society of Refractive Surgery (ISRS), 2001
  Epstein Lecture of the South African Society of Cataract and Refractive Surgery (SASCRS), 2003
  Honorary Membership Award of the South African Society of Cataract and Refractive Surgery (SASCRS), Durban, 2005
  Casebeer Award of the International Society of Refractive Surgery of the American Academy of Ophthalmology, Las Vegas, 2006
  Gold Medal Lecture, Australian Society of Cataract and Refractive Surgery (AUSCRS), Coolum, Australia, 2008
  Arthur Lim Lecture, Asia Pacific Association of Cataract and Refractive Surgeons (APACRS), Bangkok, Thailand, 2008
  Senior Achievement Award of the American Academy of Ophthalmology (AAO), Atlanta, 2008
  Secretariat Award of the American Academy of Ophthalmology (AAO), San Francisco, 2009
  SHIOL Medal Lecture of the Hungarian Cataract and Refractive Surgery Society (SHIOL), Budapest, Hungary, 2012