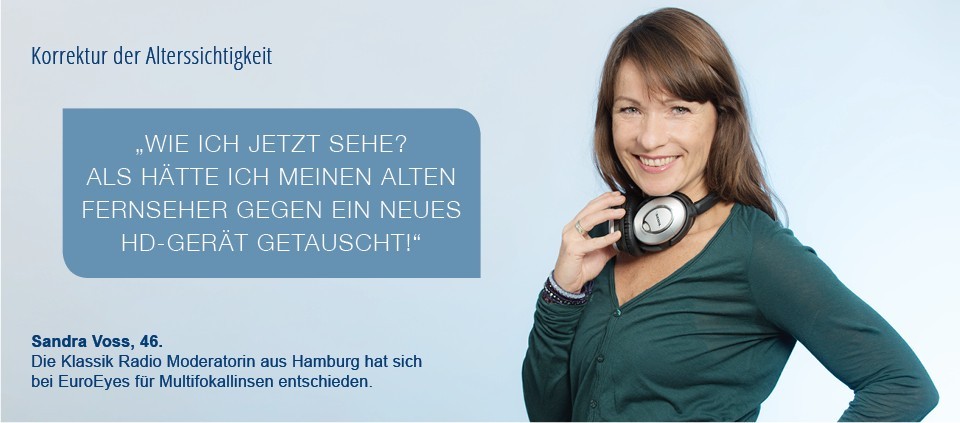 Sandra Voss has to get up early every morning. Then she goes into the radio home of Classic Radio and moderated their mission "Relax in the day". Her ears can be fully trusted, but her eyes always made more problems. The 46 year old woman got presbyopia in addition to her myopia. "I like reading, but that was always exhausting" says Sandra Voss. "I constantly had to switch between my glasses, which I often had displaced or forgotten to bring. That was totally annoying." When she heard that her vision problems can be corrected with multifocal lenses, she decided on this procedure. The great eye-opening experience happened in the morning when she was looking at the alarm clock. She couldn't believe that seeing the time without glasses this cleary could be so easy. "When I wrote my first text message, I had to change the font to the smallest size, the previous letters were so huge!" In tennis, she finds it great to have every ball exactly in focus, and she can now go jogging or do yoga unaided.
To her new vision, she says: "This feels a bit like as if I had swapped my old television with a new HD model. I can also read the fine print on CD or DVD cases, before I always wondered who there possible to do that..." Sandra Voss especially enjoys the morning when she don't have to grope for her glasses anymore, and to have a clear view immediately after waking up.
Since she had reported on her show about her OP, she is approached by listeners and friends coming back to the topic of implantation of the lens "At parties I 'm getting really besieged and constantly askd how the OP was. All are really curious and want to check out what I can see and read . So far I have passed all tests". The new quality of life has also convinced her husband: He now also have multifocal lenses.
Share this article