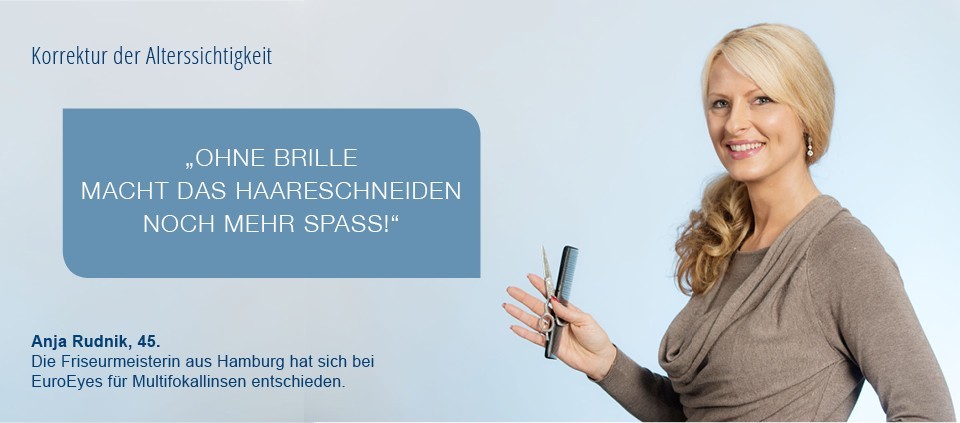 Anja Rudnik is a hairdresser with passion. The 45 -year-old woman enjoys to spoil her customers with a good haircut and a stylish make-up. She wore contact lenses for many years, until she suddenly had to fight with an allergy in 2011. Her eyes could no longer cope with hair spray and paint fumes in combination with the contact lenses. To go back to using glasses as she did in her youth was not the prefered option for Anja Rudnik. "When I heard about the treatment with the multifocal lenses, I wanted to engage sooner rather than later", she says. She had no fears, but her husband was concerned that something might go wrong during the procedure. "Dr. Jørgensen has given us the confidence to do the surgery." says Rudnik. "I felt totally confortable and safety at EuroEyes."
 "When after the procedure, I could immediately see clearly and work in my salon again," says Rudnik about the surgery two years ago. "Before I felt blind when taking a shower without glasses, but now suddenly I could see everything." Today it feels good not to feel the constant discomfort of the glasses on the nose and ears and she enjoys a daily life without glasses.
Even in her salon the multifocal treatment becomes a regular topic of conversation: "Many of my clients want to know more details, and I tell them I like it, because I enjoy life without glasses very much!"
Share this article